Maintenance & service ensures your safety & extends the life of your vehicle. This will keep your vehicle in working condition for long as possible & save money on maintaining fuel economy. By keeping your vehicle well maintained, you will also protect your investment. Without proper upkeep, sometimes the vehicle requires replacements. Improper servicing can ruin your vehicle's components & decreases its performance. Hence It is essential to perform these services on time & as scheduled to ensure your Audi remains state of art. The ultimate guide to Audi service & maintenance will help for getting the best service.
What does an Audi service include?
You must have known about Audi. Audi counts among the top cars in the world, known for their impressive looks. A luxury car is everyone's dream, an Audi car comes in those luxury cars which no one can ignore. Regular servicing allows you to keep your Audi performing at the greatest efficiency. Ensuring that you stick to a regular servicing and maintenance schedule prevents the risk of costly and unexpected repairs. Regular car service and maintenance are necessary to ensure the proper functioning and greatest efficiency of your vehicle. Your luxury car needs to meet its proper servicing needs with standard design & construction. Your Audi car service is more than an oil change or pressure check; This involves checking various parts to maintain its highest quality.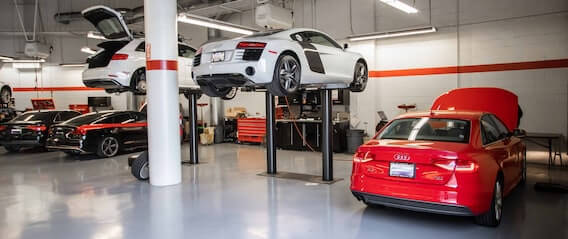 Like every luxury car, Audi needs service You should service your Audi car every 9,300 miles or every 12 months. So that with regular servicing you can keep your Audi performing with optimum efficiency. Servicing your Audi at regular intervals, as your schedule suggests, will ensure the longevity and performance of your vehicle. This servicing will also increase the resale value of your Audi if you want to sell your car in the future.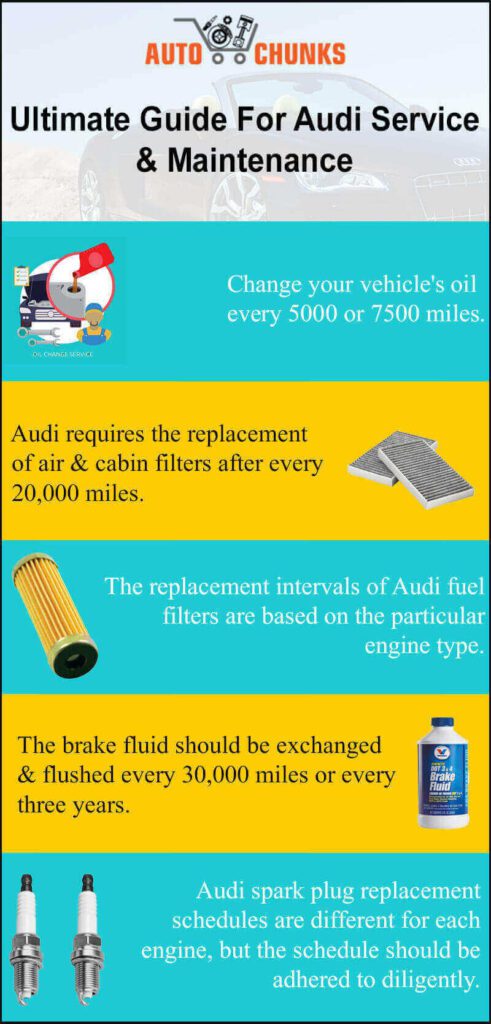 Below we have discussed five common regular maintenance needs for your Audi. These components require regular upkeep that ensures the Audi performance & efficiency.
Brakes: Brakes are one of the essential components of the vehicle that regulates the brake pads pressure. These brakes need an inspection for wear at least twice a year. And if you are driving in a city, then it should be inspected every 35,000 to 60,000 miles. The brake pad maintenance cost is not so high. And its replacement cost ranges from $365 to $400.
Oil Change: Synthetic oil is one of the most important factors for a smooth drive ride. It allows the vehicle to provide the best performance & efficiency. For modern Audi vehicles, you need to change your oil every 10,000 miles. But you are driving the Audi in lots of cities, stops & traffic, then it should be changed after 5, 000 miles. the regular oil change is quite more affordable i.e, $130 to $145.
Tires: With worn-out tires, your car will perform badly ( less efficiently). And driving with worn tires becomes risky & dangerous. Tires with low air pressure are a potential safety concern for its servicing. Tire servicing includes tire replacement.
What maintenance does an Audi need?- Audi maintenance cost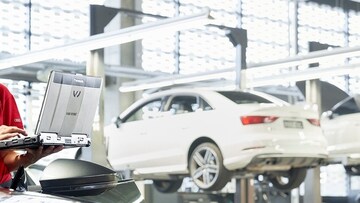 Audi Maintenance services includes oil, filters & inspection that costs ranges from $200 & $300 in every 10,000 miles. For large mileage intervals, the cost of transmission maintenance service ranges from $700 to $875. Sometimes the transmission service costs more than the maintenance cost. Hence, when your Audi has transmission problems, you should choose a replacement. Replacement is becoming more affordable with used components. Thus, when it comes to your luxury Audi, you should always go through with a used Audi transmission inquiry. It will save more money & enhance the vehicle's performance & speed.
How often does an Audi need to be serviced?
Before you service your Audi car, make sure that all Audi vehicles receive minor service every 10,000 miles and standard service every 20,000 miles. Otherwise, your Audi acquiring some problems such as Audi transmission problems, engine problems & many more. Audi maintenance costs between ₹7,952 and ₹8,023 for 10,000 miles of service, and Audi 20,000 miles servicing is slightly more expensive: between ₹32,660 and ₹32,660.
Significant points consider for choosing the Audi service
WARRANTY PROBLEM: If under your guarantee, with no hesitation. One should not waste his time to put more mind into it.
Balance in the sale: There are some wonderful benefits of allowed Service Center Vahan PaySewa. The history of your vehicle is made. This proves useful in the car's resale.
New technology stage: If you go to an allowed service you will get excellent service.
Benefits of Audi Service
Benefits of saving money: You will save a lot of money by using more frequent services with no problems. While you have to pay attention that the spare parts, oil and grease, and filter are genuine. Affordable and used parts are the biggest feature of the local workshop. But the labor charge will be much cheaper than the service center.
No warranty problem: There is no warranty required in the local workshop, due to which you can get the local service done whenever you face any problem. And a local workshop or a local garage foot can prove to be a great place to service and maintain your car.
Conclusion
Audi is one of the leading luxury vehicle manufacturers in the USA. These vehicles require proper & regular service & maintenance. Without proper upkeep, the vehicle components lose their ability to provide high vehicle performance. If your Audi acquires more problems, then instead of choosing a replacement, you can also choose to buy a used Audi vehicle. You can check the used Audi vehicle guide to consider the important checkpoints. In this article, we have discussed the complete details required for Audi service. Even we have provided the maintenance pricing information. This ultimate guide becomes more helpful in enhancing your vehicle's lifespan & getting the proper service.