Used car buying might be a daunting task. It is more unsafe to choose a preowned vehicle for daily needs. The older the car having bigger the risk for something goes wrong. But opting the preowned vehicles is a great way for having a luxury ride at cheap rates. Now if you want to buy a luxury Audi car at affordable prices, there is no alternative rather than opting for a second-hand car. Audi vehicles are known for their expertise. The build quality of Audi cars is pretty good and they can long last for many years if maintained well. So if you want to buy a used Audi, you have kept some things in mind to avoid problems. This used Audi buying guide helps you in getting the best deals.
Tips for buying a used Audi
Audi is a luxurious brand that attracts wealthy people and stands in the market head to head with BMW & Mercedes. The build quality is top-notch and long-lasting, crafted with the latest innovative technology. They ensure maximum safety and comfort for the driver. They build the interior and exterior of the car with premium materials to keep you safe and look good in it. Repairing costs can be on the upper side, but maintenance is too high.
The most reliable way to check the used Audi is to decode the Audi VIN. By decoding, you may get the complete history & details about the Audi. It helps to protect the nasty surprises in the future & helps to bargain. This VIN helps to know about the number of accidents & sustained damages on used Audi. Even though it provides the complete details about the replacement done (if any). Because sometimes, car owners choose a replacement to increase the lifespan of your vehicle. In this way, they acquire some engine replacement & transmission replacement with used Audi transmission.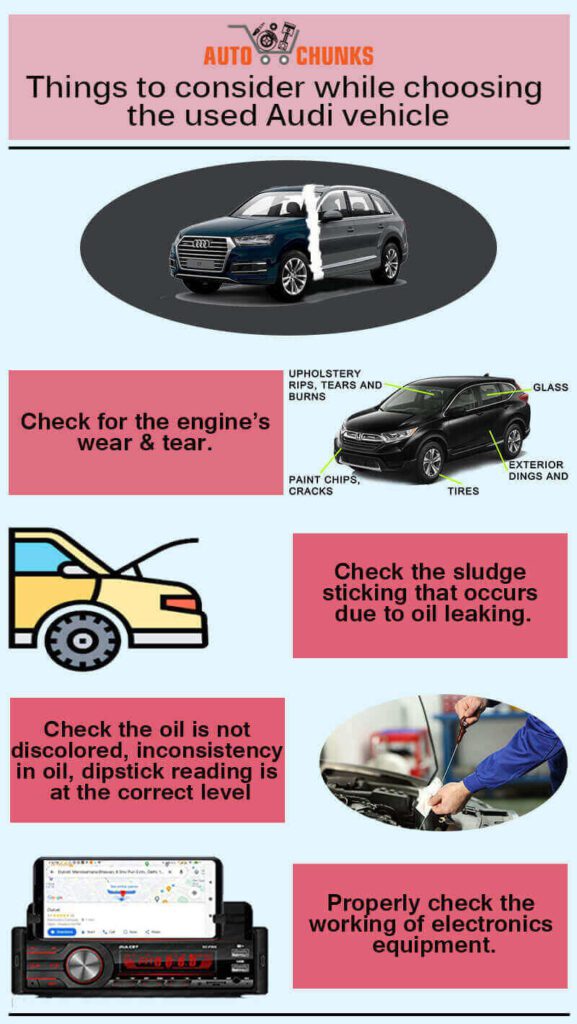 If you buy a car from an individual, it's your job to spot out problems, ask questions, but if you buy from a dealer, you have some legal rights and also apply some scheme that can cover insurance. So it is advised to buy from a certified dealer. Below we have discussed some important things to consider while choosing the used Audi vehicle.
Checking the engine – The engine is the most important of a car, also known as the heart of the car. Check for any wear and tear because if the engine is not working properly, there is no point in buying a car.
Leaks – Leaks are easy to spot. You have to first check underneath the car if there is sludge sticking; it is most likely because of an oil leak. Then open the bonnet and for any sign of a leak around the engine, the oil leak color is brown and black. Also, check for coolant leak usual colors are green-yellow, yellow. The gearbox and power steering fluid are reddish-brown. You can do two things when you find these issues lower down the price, insist on repairing these issues or last don't buy it if you are not satisfied with it.
Oil – General thing to check that oil is not discolored, inconsistency in oil, dipstick reading is at the correct level.
Electronics – Nowadays, cars are filled with electronic equipment. Check all parts like light is working properly, radio, reverse sensors (if you have any), etc.
Things to avoid when buying second-hand Audi
There are many reasons to buy a second-hand Audi because of affordability, lifestyle, and who is trying to learn to drive. You must avoid mistakes when buying it.
Lack of research – There are lakhs of cars for sale when you go out to buy a pre-owned car. Compare for a price check from multiple dealers what type of insurance they are given with it. After comparing prices, you know the exact price of the car.
Not going for a Test drive – Accounting to a report, 16% of second-hand buyers don't test drive the vehicle before buying. By not test driving a vehicle, you are taking an enormous risk.
You can tell many things about a car by just driving.
Not Having the Car Checked by a Mechanic – It is very important to get checked your car with an expert. It can save you lots of money in the long run.
Making Initial Negotiations in Person – When you go out to buy a car from a dealer in person, it is difficult to walk away. To tackle this problem, get your research done at home and negotiate by phone or email this way. It is easier to say no.
Buying Based on Looks – Buying based on your looks is the worst mistake you can do. Keep your mind straight that what is the purpose of your buying a car.
Not Running a Vehicle History Report – With a vehicle history, it is possible to find out about accidents, car problems, number of the previous owners.
Benefits of buying pre-own Audi
There are many advantages of buying a pre-owned car some of them are mentioned below.
Less value depreciation in pre-owned cars – Automobiles consider as a depreciation asset, When you buy a new car from a dealership it loses its value when it comes out from the showroom. The value drastically starts decreasing, but when you buy a pre-owned car, depreciation will be much less.
Second hand Audi is an Affordable luxury option – Audi is an excellent luxury option if you are planning to buy a second automobile although it is second hand it is still greater rather than opting for non-luxurious options. They manufacture Audi cars with good quality materials which long last for many years. The Engines are more reliable and long-lasting if compared with non-luxurious brands.
They're a luxury brand – They're not only for transport, but Audi is also a luxurious brand
Pre-owned cars come with great dealer benefits – If you buy your car with a certified dealership, it comes with various benefits.
They're Reliable – Audi is a german company they are known for their excellence in automobiles. German cars are reliable and long-lasting because of their reliable engine and overall design.
They have a significant safety feature – Audi is a luxury brand, so it has a great safety feature even the older models have pretty excellent safety features when compared to affordable brands.
They're comfortable – Audi cars have adequate cushioning for the seats and also spacing is good between seats.
Demerits of buying a second cars
There are some common problems faced in pre-owned Audi cars.
A pre-owned car needs more maintenance – A second-hand car has less mileage than a brand new car. Damages that occur during the car life span will reduce the rigidity of the car and increase the maintenance cost.
Second-hand cars have a minimum warranty – If you buy a pre-owned car, there is very little chance that it comes with a warranty. But if you buy it from a certified dealer, they will provide a good warranty.
Pre-owned cars come with outdated technology – A premium brand like Audi comes with futuristic features but it simply can't compete with the latest gen cars. So you have to compromise on this.
Conclusion
In this article, we talked about every aspect of buying a used Audi check. Like what mistakes to avoid what you should know about Audi as a brand, a complete checklist, things to avoid, most common problems, benefits of buying, demerits. With the help of this guide, you will get the best deals, most delicate features & comfortable operating conditions for your purchasing vehicle. It is very helpful in getting the hassle-free purchase & complete peace of mind by making a smart choice on choosing a used Audi vehicle.