An automotive luxury vehicle manufacturer in Germany, i.e., Audi AG. In these cars, the company uses two different automatic gearboxes. The first is Multitronic CVT (Continuous Variable Transmission) and the second one is S-Tronic Dual Clutch. Recently, they stopped all CVT transmission for upcoming models. As there were plenty of Audis, both new and used.
When we talk about cars, we all know it is a machine which may have a certain limit of its working (i.e. 10-15 years). Like other cars, Audi might also have the same issues in its transmissions. In this article, we are going to discuss the signs of Audi transmission failure. Every car owner should know these transmission symptoms like what it is, how it happens, and what are its causes. Regular car servicing is the best way to increase the vehicle's life span & help to avoid maintenance.
Transmission problems are easily resolved by replacing the fluids. Otherwise, it may run into a gamut in severity and its repair cost for reconstruction can go up to $5000 or more. To avoid these repairs, you can switch to our used Audi transmission. These transmissions enhance your vehicle's performance & speed. These repairs are divided into major and minor transmissions. The major repair requires disassembling, inspection, cleaning, rebuilding, labor-intensive, and cost-prohibitive. Whereas the minor repairs involve replacing defective solenoids, re-sealing for leaks, replacing parts, and throttle cable change.
AUDI TRANSMISSION FAILURE SIGNS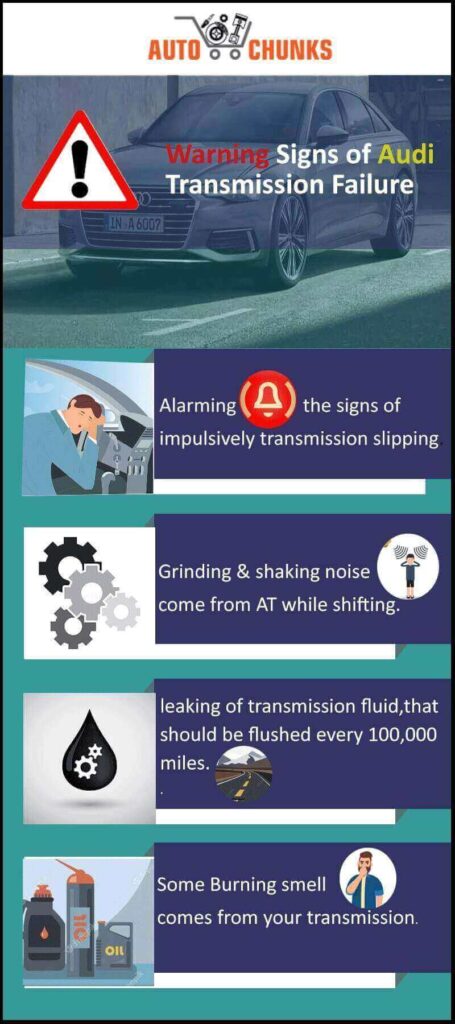 Low Transmission Fluid – This fluid helps the vehicle to become smooth and keep it cool. There can be a problem like slipping gears, gear shifting slowly, maintenance overdue, and maybe a leakage in transmission.
Torque Converter Damage – Full transmission failure and needle bearings are the common problems in this type of damage. Sometimes these tiny parts start overheating, so they come out. We usually hear this while driving. The car will be silent when it is in neutral. As soon as we change into gear, it sounds like grinding metal.
Solenoid Malfunction – controlling the flow of transmission fluid is done by solenoid. At the time of malfunctioning, we notice the same symptoms as when we are low on fluid. It also breaks the smoothness of gear and shifting will be turned off even if we have enough fluid.
Jammed Clutch – Getting clutch jammed is the crucial part located inside the torque converter. It may cause many problems between solenoid and malfunction and may also overheat or shake at the same time.
TYPES OF AUDI TRANSMISSIONS – AUDI TECHNOLOGY
The brand with the four rings has played a gerund role in the excellence signature of engine technology and smoothness of the four-wheel drive. The 5 types of Transmission technologies:
It suited manual transmissions for pairing with front-wheel drive and Quattro drive. Whereas other manual transmissions have six gears and some have five gears to operate. Many new arrivals come with two versions of longitudinally mounted engines which can transmit up to 350 Nm (258.15 lb-ft) of torque. Some are even more powerful versions available for the V6 TDI. Dynamic drivers are offered a sports program with closer gear ratios and a manual mode with eight stepped gears.
The S Tronic comes with a dual-clutch transmission which combines the convenience of an automatic with the efficiency of a manual transmission. Even they are available in four different versions, with six or seven gears. In terms of longitudinally installed engines, they have developed a special version of the seven-speed S Tronic.
Tiptronic has great strength for torque-converter transmission, which comes with a remarkably smooth shift action and starting performance. They used longitudinally-mounted engines with six or eight gears.
Transmissions Efficiency focuses on the manual and automatic transmissions which are highly efficient in Audi. They make design such that all the controls are fully optimized concerning internal friction, which is also notable for their wide gear-ratio spread.
HOW TO FIX AUDI TRANSMISSION PROBLEMS
Audi transmission problems caused due to low transmission fluid level, faulty valve body, Transmission Control Module, shifter module, trans fluid pump, worn clutches, even electronic faults, and many more. These problems resolve by adapting the reset transmission adaptation, which needs to turn on the ignition but doesn't start the engine. Slowly press the accelerator and keep it pressed for 10 seconds. Afterward, turn off the ignition and slowly release the accelerator. As we remove the key from the ignition, press the accelerator and keep it pressed for 10 seconds. After this slowly release the accelerator and turn on the ignition and start the engine.
Second, if the driver is facing certain issues like no shifting, delayed shifts, erratic shifting, or shifting at high RPMs may be because of low transmission fluid. Always check the transmission fluid level as soon as possible or daily so that we are not facing any issues regarding driving the car.
Third, try to reach the closest Audi service center and check if there are any recalls or Technical Service Bulletins (TSB) for vehicle transmission. For checking, we need to provide a VIN.
Last, we need to read the entire process and try to troubleshoot the fault codes from the Transmission Control Module. They manufacture these codes with a specific scanner called a generic OBD-II scanner and Audi VW Transmission Scanner.
CONCLUSION
According to the manufacturer, Audi car transmission should be checked and serviced every two years or after reaching 15,000 miles. There are many warning signs to be caught before transmission experiences. If it is showing any of the following symptoms such as flashing check engine light, failure to start transmission, delayed gear shifts, leaking red fluid, buzzing or clunking sounds, and grinding gears in a Manual, try to reach out as soon as to the service center. In this article, we have shared the complete details about the Audi transmission failure signs.
Audi's transmission is checked during the routine services, which is good for its maintenance within every six months. A skilled Audi service technician will inspect it for leaks. If we suspect any transmission trouble, schedule a meeting with Audi manufacturers as soon as possible.