Does the Ford Pickup truck really have reliable engines? A lot of people would like to know what is the most reliable Ford truck engine.
The US-based auto-mobile manufacturing company, Ford is among the most popular vehicle brands. Also, the auto-maker develops in-house car engines that run both on diesel and petrol (gasoline) fuel. Their heavy-duty pick-up trucks are also praised by many car enthusiasts.
What are the engine options for Ford Pickup Truck?
Just as someone would want to do when buying any new or perhaps, even a used vehicle, it is important to know how reliable the vehicle is going to be. Thus, reliability not only affects how the vehicle is going to perform within the first few months when it is purchased but also how well the vehicle will do in the years to come.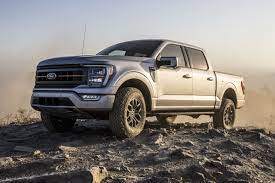 Among several things, Ford pick-up trucks are attributed for their engines, too. Most commonly, there are two types of internal combustion engines used in Ford heavy-duty trucks. These are the 3.5-liter EcoBoost V6 and 5.0-litre Coyote V8, respectively.
Best Ford Truck Engines Ever Made
There are a few other engines that have been made for Ford trucks. These are listed as follows: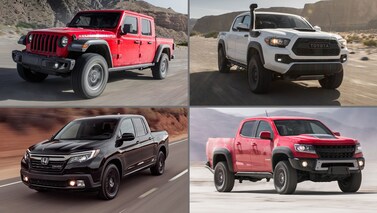 1) 300ci I6
Ford's 300ci inline-six-cylinder was introduced way back in the year 1965. The engine is made entirely of cast iron, with a beefy crankshaft held on by seven main bearings and a camshaft in the block used for activating pushrods to open and close the two overhead valves per cylinder.
Instead of a timing chain, the 300 CID engine uses fiber and phenolic timing gears (commercial applications use metal gears). We now don't see timing gears in ordinary cars, due to the noise and difficulties in packaging. However, these engines were significantly long-lasting than timing belts, and even a bit stouter than timing chains. What makes the 300 CID engine stand out from the rest is its proven longevity. Thus, it was used in the Ford F-Series pick-up trucks for more than three decades.
2) 351 Windsor V8
The Ford 351Windsor V8 engine (offered in several displacements) is considered one of the most successful engines to have ever been produced. The Windsor engine family gave this name after the Windsor Engine Plant in Windsor, Ohio. Here they were originally manufactured were introduced in 1962. The 351W itself was introduced in 1969 and earned a good reputation for its strength, reliability, and durability.
The engine's cylinder heads The cylinder heads of your engine are designed to deliver a broad torque curve with compromising high rpm horsepower. Electronic fuel injection replaced carburation for the 351W in 1988. The 351 Windsor was available in the Ford F-150 up to 1997, when it was replaced by the Ford Modular V-8. The engine has an identical 4.00-inch cylinder bore as the 302 cid V-8 but with a longer 3.50-inch stroke.
Ford had later replaced the block castings for the 351W engine. The 1969-1974 blocks, therefore, were still considered stronger and more desirable. In 1990, the rear main seal was changed from a 2 piece design to a single one. Though the engine continues to have the same bell-housing and motor mounts as the 289/302 Windsor V-8 variants. The 351 "Clevor" became a popular name by many performance enthusiasts, who installed the free-flowing heads of a 351 Cleveland on the stronger 351 Windsor block.
3) 6.7 Litre Power Stroke Diesel
Ford's 6.7L Power Stroke engine initially came with a unique single sequential turbocharger (SST). It has a dual compressor and single turbine setup affixed to a common shaft. This unit replaces with a single Garrett GT37 variable geometry turbocharger (VGT) for the 2015 model, subsequently increasing horsepower and torque in combination with additional upgrades. The SST returned to the Power Stroke for the completely revised 2017 model Super Duty. The torque reached an all-time high at 925 lb-ft. Also, the horsepower & torque power increased for the 2018 model & production up to 450 hp and 935 lb-ft of torque, respectively.
For their 2020 models, Ford introduced the third-generation 6.7L Power Stroke diesel engine, which rated at an impressive 475 hp and 1,050 lb-ft of torque. The revised engine features more significant changes, the most noteworthy is likely its new piston design. This power stroke uses a steel piston with short height. Also, shrinking the height of the piston balances the increased weight of steel * heavier material than previous aluminum design). The result is a comparable piston (albeit slightly heavier) in weight to the pre-2020 piston but offers increased strength/resilience and lower friction due to its smaller profile.
4) 7.3 Litre Power Stroke Diesel
The 7.3L Power Stroke turbodiesel engine is characterized by its HEUI (hydraulic electric unit injector) injection system. It uses highly pressurized engine oil as a medium for creating fuel pressure directly in the injector body, as opposed to a system requiring a typical injector pump. Instead of an injection pump, the 7.3L Power Stroke utilizes a high-pressure oil pump (HPOP) and a low-pressure lift pump to create fuel pressures up to 21,000 psi. In comparison to the prior mechanical injection system, the transition to HEUI showed improved performance, lower emissions, and better fuel economy stemming from increased fuel atomization and greater control over injection events.
The 7.3L Power Stroke has been praised as one of the most popular engines offered in a pickup truck. Its name also being synonymous with reliability and longevity.
5) 5.4 Litre Supercharged V8
The 5.4L V-8 engine is part of Ford's Modular overhead camshaft engine family, as is the 6.8L V-10 optional in 3/4 and 1 ton Ford trucks through 2010. It became an optional engine in the 1997 model of the Ford F-150 series. The engine required a taller deck height with an under-square design. The longer stroke of the engine combined with overall greater displacement contributed to its higher peak ratings of both horsepower and torque. The supercharged variations of the 5.4L V-8 engine have been used in various specialty and low production applications, which include the Shelby Mustang, Ford GT, F-150 Lightning, and the Harley Davidson Edition F-150 (for select model years). The 5.4L V-8 and 6.8L V-10 were optional engines in the Ford Super Duty from 1998 through 2010 but were replaced when the 6.2L V-8 was introduced for the 2011 model year.
6) 390 FE V8
Ford's 390 was a 6.4-liter (390.04ci) petrol-fuelled V8 engine that was produced between 1961 and 1976. The engine was part of the Ford-Edsel (FE) engine family, which was produced from 1958 to 1976. It is still popular with many performance engine makers. However, the engine lived a relatively short life, as it arrived too late in the era to match the future potential of the Windsor motors. The Ford 390 was, therefore, phased out of use in passenger cars by the year 1971. It found a niche as a durable and torquey motor for pickup trucks until 1976. It served this role well, and there are still many Ford trucks on the road still running with 390 engines.
The most notable early use of the 390 FE V8 engine was in the Ford Thunderbird, where it was offered between 1961 and 1968. Other Ford cars that came with the 390 V8 engine include the Mustang, Fairlane, Ford Police Interceptor, Torino, Mercury Cougar, Mercury Comet, and the Mercury Cyclone.
7) 460 V8
Ford's 460 V8 engine was part of the Ford 385 series of V8 engines, which included the Ford 429 V8 that was used by Lincoln car variants. These engines became the last of Ford's V8 big-block engines. However, even today, these engines remain to be quite popular among many engine enthusiasts.
The Ford 460 ci V8 engine has a cylinder bore of 4.36 inches and a crankshaft stroke of 3.85 inches. The output for the engine that was built before 1972 produced 365 horsepower at 4,600 rpm and 485 pound-feet of torque at 2,800 rpm. The compression ratio was 10.5:1, and fuel was delivered by an Autolite four-barrel carburetor. The output for the 460 V8 engine starting in 1972 produced up to 212 horsepower at 4,400 rpm and a 342 pound-feet of torque at 2,600 rpm. The compression ratio was lowered to 8.5:1, and the carburetor is a Motorcraft four-barrel unit. After the mid-1980s, carburetors were replaced with electronic fuel injection systems, which could produce an output of up to 245 horsepower and a 400 pound-feet of torque.
Ford EcoBoost V6 vs Coyote V8: Which Is Better?
While engines may have problems of their own, there is, however, one that stands out among the rest. It is the 7.3L Power Stroke V-8 engine with HEUI injection system, which is found in the 1999-2003 Ford F-250 and F-350 pick-up truck models. Although the engine may now appear to be more outdated than some newer options, it has experienced very few problems over the years and is known for its quiet operating sound and reliability.
The best engine for Ford F-150 pick-up truck variants is the 3.5L EcoBoost V-6, which produces up to 375 hp and a 470 lb-ft of torque. The engine also makes the best F-150 for towing and hauling. Towing and payload are significantly improved, measuring at a maximum of 13,200 pounds and 3,230 pounds, respectively.
The best Ford F-150 series is 1993, 1994, 1996, 1998, 2009, 2012, 2003, 2001, 2014, and 2018 model years. Several other models are known for their ruggedness, family suitability, towing capacity, and durability. However, there are also a few model years of the Ford F-150 series of pick-up trucks that show red flags consistently, and which you should probably steer away from.
Despite being the engine that has the highest maximum towing capacity in all F-150s, the 3.5L Ecoboost V6 engine provides an impressive fuel economy. However, unlike the 5.0L V8, this engine is not equipped for Flex Fuel capability. If that doesn't sound good for you, then you're better off going with the V8.
The EcoBoost V6 can tow up to 11,000 pounds (5 tons) and haul up to 1,520 pounds (0.69 tons) of payload. In comparison, the V8 engine tows slightly less at 10,600 pounds (5 ton) but features a much larger payload rating of 3,270 pounds (1.48 ton).
On average, the Ford F-150 can last between 150,000 miles (241,402 km) to 300,000 miles (482,803 km), depending on maintenance and several other factors.
The 2021 Ford F-250 is the most reliable pick-up truck. The 6.7-liter Power Stroke Turbodiesel V8 is the most reliable engine for Ford pick-up trucks.