In the category of mid-size cargo and passenger vans, the Ford Transit is one of the most popular choices among many. It is also because the utility van is available in both petrol (or gasoline) and diesel fuel engine variants. This is important, considering the requirements of several car enthusiasts.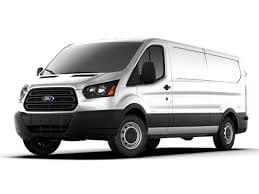 As the automobile manufacturing company, Ford is soon going to launch their new 2022 Transit model, we, however, do not expect any major changes made to the latest cargo van. It doesn't need to. It will just do what it's meant to i.e., transport stuff from one place to the other. The Ford Transit van is still one of the most popular utility vans in the segment, and probably the most sought after, in the USA, too. Thus, even without having any major changes, the vehicle variant by Ford will continue to impress us all by doing its job brilliantly.
Ford Transit Van Expert Review
Ford's Transit utility van comes with a 3.5-liter twin-turbo EcoBoost V6 engine and 3.5-litre PFDI V6 engine options. Their 3.5-liter petrol (gasoline) engine comes with updated technology to deliver maximum fuel efficiency and without sacrificing its engine power. The EPA ratings for a recent Transit van model were capable of traveling 17 miles (27 km) per gallon overall in the category of petrol engines. The improvement was mainly due to the inclusion of a 10-speed automatic transmission that could easily boost the fuel economy of both the diesel petrol engines.
Ford provides three engine choices for the Transit utility van, which consists of one turbo 4-cylinder diesel engine and a naturally aspirated or turbocharged 3.5-liter petrol engine, of which the petrol powerplant is more popular. Having the capability of traveling up to 17 miles per gallon, the turbocharged V6 petrol-fuel engine can produce up to 310hp and best-in-class maximum torque of 410 lb-ft at 5500rpm. However, the naturally aspirated engine is capable of producing maximum horsepower at a higher rpm, which could make it being more of a free-revving and easier driving option.
The diesel-fuel engine option in the new Ford Transit variant is said to have been borrowed from the European Ranger Raptor, which provides better fuel economy at 22 miles (35 km) per gallon. It also provides a decent towing capability, as it can produce up to 369 lb-ft of torque, which it makes less in the rev range. The all-wheel-drive (AWD) is also optional across the three engines variants, however, it may have a slightly negative impact on the fuel efficiency figures, possibly by a couple of miles per gallon.
The GMC Savana comes with a more powerful engine out of the four. The engine easily outperformed the 2021 Ford Transit by a whopping 1 horsepower, despite displacing almost a liter more. Thus, resulting in an unwanted trade-off between economy and power in a direct comparison between the two. The base engine is a naturally aspirated 3.5-liter V6 that provides 275 horsepower and 262 lb-ft of torque. There's also a turbocharged 3.5-liter V6 engine available that can produce 310 horsepower and 410 lb-ft of torque. The lowest power is output by the smallest engine on the list, which belongs to the Mercedes-Benz Sprinter. This engine churns out more torque than two of its V6 powered rivals at 188hp. This makes it the best only by the 298lb-ft of torque in the GMC Savana's engine, which is a commendable feat for the German carmaker.
America's third most purchased cargo van of all time, Ford has a reputation to uphold with their 2021 Transit van. It is capable of everything – from carrying cargo as well as people in reasonable comfort, to towing loads from one place to another. The current-generation Transit van by Ford is created to cater easily to all kinds of personal and commercial needs alike. In addition to this, there is a multitude of combinations and preferences which are available when buying the Transit. A few of these options include double rear wheels for towing, three engine options, cargo, passenger, and crew van styles, and different drivetrain options. All these customizable choices are based on your requirements which you would like to have in the utility van.
The Ford Transit van offers a standard electronic parking brake for all double rear wheel variants. It also provides an increase in the Gross Vehicle Weight Rating, which will, in turn, increase the van's capacity for carrying weights. Competing against the likes of the Mercedes-Benz Sprinter, GMC Savana, and Nissan NV Cargo, Ford offers the characteristic steering and cabin comfort in the new generation of the Transit utility van. The carmaker does so, while also maintaining physical capabilities to hold its position as one of the most sought-after mid-sized cargo and passenger vans produced in the United States.
Which Fuel Engine is Better for the Ford Transit Van?
Choosing between getting a diesel engine or a petrol (gasoline) engine for your car is not always an easy one though. However, it is said that diesel fuel engines quite possibly, are considered ideal, particularly for longer distances and heavy-duty in comparison to petrol-fuel engines.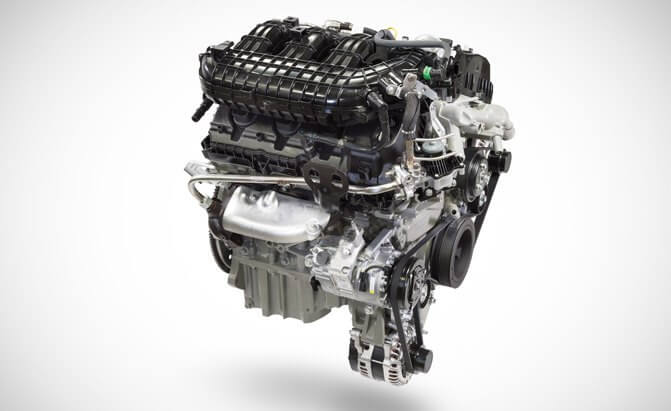 One of the main differences between the two fuel engine types is that a petrol-powered engine mainly uses spark plugs to produce ignition when coming in contact with the fuel and air mixture compressed in a cylinder. The diesel engine, on the other hand, basically uses compression by itself to produce ignition instantaneously. Thus, a diesel engine is capable of producing a lot of power and torque as well, with the fuel (diesel) that is used in the engine. Diesel fuel simply packs more power in every gallon than petrol fuel, and this makes the diesel fuel much more economical. Also, diesel-fuel engines are yet a lot more efficient when compared with petrol-fuel engines. However, a downside with diesel engines is that these could be less powerful for those who are mostly required to drive in the city. So, the petrol engine in Ford's Transit van may be a better choice for those that do the driving in the city.
Overall, the inclusion of diesel engines in the Ford Transit utility van should make up for offering better fuel efficiency. This means cruising on the city streets and transporting stuff from one place to the other via driving on the highways. In addition to the fuel efficiency, since being capable of producing an increased torque, the diesel-fuel engine can be a lot powerful in towing loads, as well.
Wrapping Up
When it comes to choosing a performance and fuel-efficient engine for the Ford Transit utility van, both petrol and diesel variants have their compelling reasons. Although a diesel engine can give you better fuel efficiency, the expenses for repairing the faulty engine parts could, however, be quite costly. Thus, being expensive, you could just about replace an entire petrol engine for the same price which could cost merely for repairing the diesel fuel injectors. If taken good care of, then whether diesel or petrol engines, both are capable enough to last longer than 300,000 miles (482,803 km). Therefore, the choices between the two fuel engine types come down to one's personal preference and needs.
Keep in mind that opting to buy an all-wheel-drive (AWD) variant, whether it's the Ford Transit van or some other vehicle in the category, also matters. This is because each engine type, diesel or petrol, will be bound to lose a mile or two per gallon.