Cummins engines are the most well know & high-performance engines that are added to diesel pickup trucks. These Cummins motors are specifically made for heavy-duty work such as commercial trains, trucks, buses & consumer off-road pickup trucks. These engines have higher horsepower & torque that truck needs to tow a hefty load. These engines are also noted for their durability variants. Apart from this, Cummins manufactures fuel systems, turbochargers & generators.
Their diesel engines have been around for almost a hundred years now with the company's origin in Columbus, in the U.S. state of Indiana. This brand of the diesel engine is named after Clessie Cummins, who later helped shape the future of their diesel engines and the manufacturing technology used, thereby giving a boost to the industrial economy, as well. Related to diesel engines, we have another blog about the comparison of diesel engines with petrol engines. But in this article, we are digging out the Cummins diesel engines.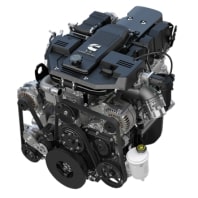 The company is known for creating one of the best and powerful commercial and consumer auto-mobile engines on the market. But, the question that remains to be answered is, "Are the Cummins diesel engines really good enough for most auto-mobile models?"
In this blog, we're going to give you an overview of what makes Cummins diesel engines a go-for choice among heavy-duty drivers that require a lot of power, mileage, and durability at the same time.
What is so special about a Cummins engine?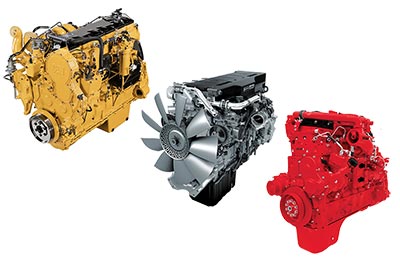 A Cummins diesel engine runs on diesel fuel only. This engine provides enough horsepower and torque that is needed for transporting heavy loads from one place to another. It means the goal has been achieved without sacrificing the mileage. Since a lot of drivers need to move long distances daily, thus, fuel efficiency and economy also play a key role here, in addition to the engine's lifespan.
Power:
Cummins is a dedicated company that provides the power to get the job done. These engines maximize the torque & horsepower. From efficient 49-horsepower (37 kW) off-highway engines to mammoth 4400-horsepower (3132 kW) rail engines, the company designs every Cummins diesel engine in order to deliver exactly what's needed for a consumer's specific application.
These Cummins diesel engines comprise 6.7 liters inline six-cylinder. It boasts 385 horsepower (287 kW) & 900 lb-feet (1220 Nm) of best-in-class torque. This torque is 50 lb-feet(68 Nm) more than the competitor's engines. Also, there is no substitute for power.
Dependability:
An engine is only as valuable as the work that one can possibly get out of it. It makes the most critical metric for any time as uptime. These engines deliver reliable service for a lifetime & offer high precision crafted performance to resist wear. Legendary endurance and low maintenance are also the hallmarks of the company that produces such powerful engines.
These Cummins truck engines easily surpass the million-mile mark. At the time of servicing, these Cummins network includes more than 7,000 dealers & distributors. Also, they provide the best service density in the business.
Versatility:
Cummins engines are found in various vehicles & equipment. Most consumers will know the company for making the Turbo Diesels those power vehicles, such as the Nissan TITAN XD and Dodge RAM 2500 and 3500 off-road pickups, and perhaps, even powering many popular big rig engines. Cummins also produces a variety of diesel engines that can power several industrial applications which are used around the globe.
All in all, Cummins engines power almost everything – from trucks, trains, buses, and pickups for transporting people and goods to agriculture and construction equipment to power generators and marine vessels. Collectively, these diesel engines have been tested in every environment on Earth and have been capable of proving their worth for a number of different uses.
Innovation:
The company believes that innovation is not just a mere word, but something that brings out the creativity in them. Thus, Cummins has ingrained innovation and technology in its vision, mission, and values.
Maybe that's what drives them closer to their consumers. For them, innovation is limitless. Perhaps, this is also a reason that made the company produce their first-ever diesel-powered racecar to break the 100-mph (161-kph) barrier back in the year 1931. But, it seems they didn't just stop there. In the year 1989, Cummins had also partnered with another highly demanded auto-mobile manufacturer named Dodge to haul two tonnes more than any other competitor at that time. Aside from this, Cummins is also praised for their 2014 EPA meeting and the NHTSA greenhouse gas regulations a full year ahead of schedule across their entire on-highway product line-up. The company just wants to keep pushing the boundaries and improving its innovation.
At present, engineers from around the world who work at Cummins are working hard toward developing and testing their next generation of diesel engine technologies. This is also a great step taken in order to improve the productivity and lives of their customers. Also, the company must take into consideration or carbon-based gases, including surpassing the next wave of global emissions standards.
Legacy:
Cummins' efforts for staying up to their legacy are also worth the praise. It's been several decades since the company was founded i.e., in the year 1919, and Clessie Cummins made to lead the company toward innovation and success.
The company also remains to be one of the notable pioneers in auto-mobile engine technology that has ever existed since the beginning of the industrial era. Thus, in the field of producing powerful engines that are needed to drive not only heavy-duty motors on the roads and rails but seemingly many industrial applications as well, Cummins diesel engines cannot be easily matched.
It just appears that Cummins is determined to pioneer new innovations in engine technology with a commitment to producing the finest and powerful diesel engines on the market. They also look into the need for making their products and services easily available in many parts around the world. Currently, the company has already established its international enterprise in more than 150 countries and still hopes to expand further.
Conclusion
After having spent just a little over a century in their innovation and technology in engine manufacturing, the company wants to take its expertise even further. Thus, Cummins continues to head forward in amplifying the performance, fuel efficiency, and durability of their range of diesel engines for the better.