Acura is one of the leading American vehicle manufacturers. Acura MDX equips with an MDKA, BDGA, BYFA, BDKA & MT4A transmission. Acura MDX cost about $9,820 for maintenance & repairs. And there is a 28.65% chance that MDX requires a major repair during the first 10 years. After a certain limit, every mechanical part requires replacement. Replacing the transmission requires extensive knowledge for choosing the compatible part for your vehicle. In this article, we are going to discuss some major points that you should consider while Acura MDX transmission replacement.
Things to consider while opting Acura MDX transmission replacement
When you decide to choose transmission replacement for your ACURA MDX, choose a trusted authority. Choose the compatible & reliable component from a trustworthy & guaranteed organization. You can also choose the used Acura transmission as the transmission replacement for your MDX. These used components are easy to install. Even they enhance the life span & performance of your vehicle at a low budget. Let us discuss some key points that you should consider:
Check the electronics: While buying the used/rebuild Acura MDX transmission, you should check all the onboard electronics for proper function.
Check for Leaks: Have a mechanic check on used MDX transmission for the signs of oil leakage & fluid leakage.
Check the torque converter: There can be some torque converter issues in the transmission, that can be pricey. Hard shifting & transmission slipping are the key warning of transmission failure. Check for these warnings.
Acura MDX transmission problems
Transmission problems are quite common in every car. The ACURA MDX transmission problems, mostly slipping torque converter, sensor issues, and internal clutches. Sometimes we even notice a grinding sound at the time of shift gears and the strange smell of transmission fluid. The leakage of transmission fluid is a sign of changing the fluid so that its performance may decrease. If any customer is experiencing any issues, they need to reach out to the service center as soon as possible or even can book their appointments regularly. Older models of ACURA MDX cars, customers who bought the car, faced many problems in transmission.
Many times, the same problems are covered, such as slippage in the gears, while others face distinct vibrations while driving at a constant speed. Some drivers even felt a tremendous shuddering within, going anywhere from 25 to 50 mph. These issues may also occur when acceleration makes transmission more weak and slow as the customer tries to shift into fourth gear.
Signs of the transmission failing
Difficult shifting: Every mechanical part loses its functioning after a certain limit. It's natural to decrease its performance. Hard shifting is one of the transmission problems, due to which we are unable to switch the gears to regulate the speeds. It means your transmission is banging into gears.
Funny noises: In a manual transmission, some grinding noise comes while shifting the gears. And if you are using an automotive transmission, then a wildly annoying whining noise comes from the grumpy transmission.
How much does Acura MDX transmission last?
MDX has faced only a few ups and downs, but not all of them will satisfy customers' wants/needs. At some point, the first five-year models of Acura MDX (2001 – 2005) were causing problems with total transmission failure, which may start from the range of 100,000 – 130,000 miles, but repairing costs goes over $4,000. 2004 model was the worst out of this bunch, as its transmission fails at 84,000 miles.
Acura MDX transmission replacemnet cost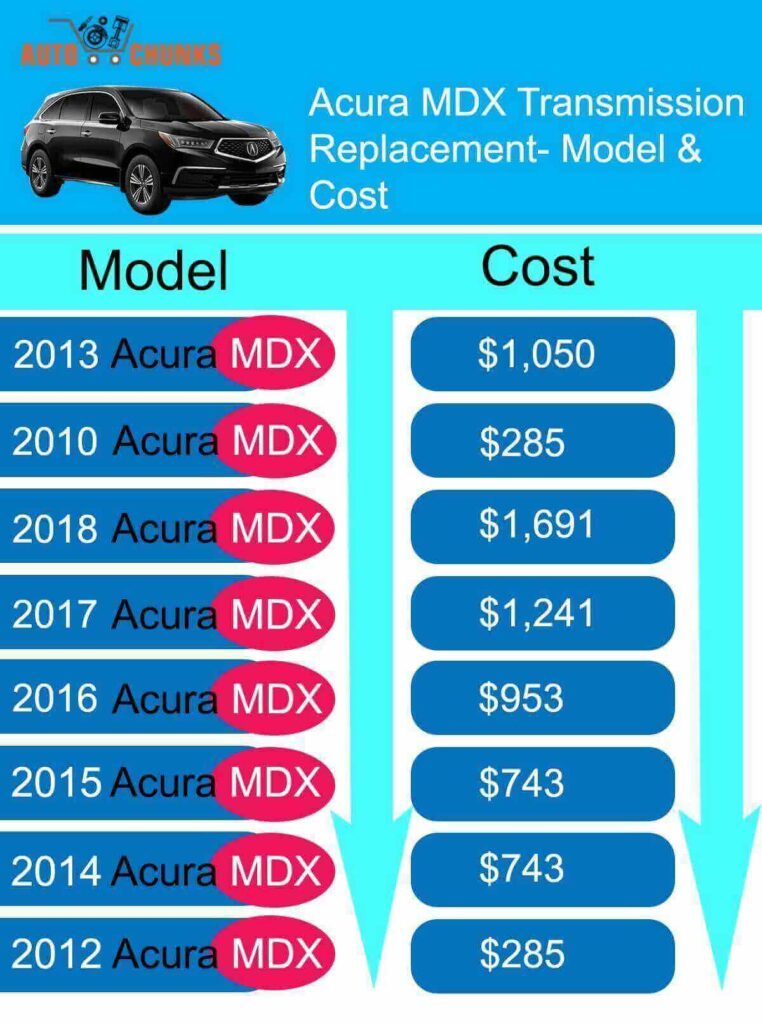 Transmission Rebuilding can save a lot of money over the short term while keeping car payments out of the monthly budget. For many, rebuilding their transmission is worth the initial cost. Rebuilding a transmission may cost the customers $2500 or more, which is a significant block of change. It can be less costly because the customers will put in additional parts, such as the seals, gaskets, clutch, and bands. Auto repair shops always check the transmission before installing it again. Most of the time it also depends on labor work and how long will it take to replace and reinstall transmission on the type of car versions too.
The average time for replacing it takes 5 to 16 hours, as it is one of the most complex automotive repair tasks. It also depends on whether the customers want to rebuild the transmission, which will cost from $1100 to $2800 or they want the remanufactured transmission, which may start from $1300 to $3400. Even the labor cost for removing and replacing a transmission ranges from $500 to $1200 for 4 to 10 hours of billing time. The cost of a new Acura MDX transmission could be $3,500 or more, depending on the vehicle model. Therefore, less expensive services such as fluid changes and a transmission fluid flush can go up to $150 or less. These services are hard to smooth the life of Acura MDX transmission.
| | |
| --- | --- |
| Car | Prices |
| 2005 Acura MDX (3.5L V6 Base • 127,000 miles) | $3,008 – $3,676 |
| 2014 Acura MDX (3.5L V6 SH-AWD • 83,000 miles) | $3,042 – $3,718 |
| 2018 Acura MDX (3.5L V6 SH-AWD • 15,000 miles) | $2,867 – $3,504 |
| 2004 Acura MDX (3.5L V6 Touring • 94,000 miles) | $3,151 – $3,851 |
Conclusion
Transmission of the vehicle may affect the life of Acura MDX transmission after repairing or replacing it from an old to a new transmission. Every car has problems because it is in daily use. If we talk about the first five Acura MDX Models (2001 – 2005), for the first three years the transmission was good and at the time in 2004 maybe there was some problem that made customers not choose it again. But the 2002 Acura MDX model had some good transmission, even so, customers had problems, but not as they felt in 2004. Sometimes customers get confused at the time of repairing or replacing the transmission. because of the cost, which depends on customer wants/needs. Even if the car is old or new, that also matters.
So the best suggestion to the customers is to always make a proper decision of what their requirements are. So that they are more clear in the terms of what is best for them and it may be possible that they suggest more things that are faced by customers while driving a car. Customers need to reach as soon as possible to their nearest service centers at the time of problems. So that it will be better for them to update in new car models.