Ford is a popular auto-mobile manufacturing company and brand that was started over a hundred years ago. Its founder Henry Ford name still lives on to this day. The company produces several categories of automobiles and commercial vehicles – from entry-level to sports cars to luxury vehicles and heavy-duty machines. However, here it is again, and this time it's about their line of the EcoBoost engine. What's so special about this engine? The company believes that this engine can improve power, torque, fuel efficiency, while also expressing its faith or hope in reducing greenhouse emissions.
There are also rumors spreading quickly about the reliability of the powerful engine from Ford and are being questioned. However, it's still unclear as to how true are the rumors about its unreliability or is it just a blunt remark?
Well, we just have to find out.
What is the Ford EcoBoost Engine?
EcoBoost is a petrol (gasoline) direct-injection turbocharged engine (aka TDi) developed by the Ford auto-mobile manufacturing company and co-developed by FEV Inc. This engine technology was first introduced back in the year 2009. Today, there are several hundreds of Ford vehicles, including the popular F-150 trucks that run on the EcoBoost TDi engine power. Since its first production, this auto-mobile engine comes invariants, a few of which include the 1.0 L (3-cylinder), 1.5 L (3-cylinder), 2.0 L (4-cylinder) inlines, and the 3.5 L (6-cylinder) V-type, respectively.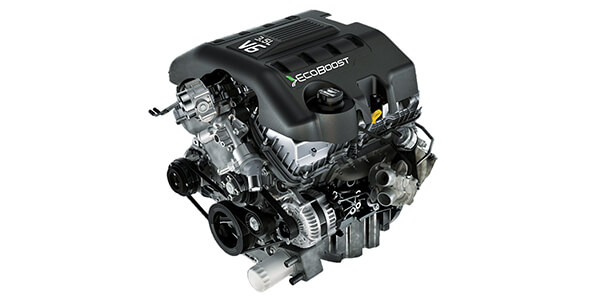 The purpose of the development of the Ford EcoBoost TDi engines was mainly to accomplish a few things, such as:
Make the engine-less costly and more affordable
Has versatility
Provide better fuel efficiency
Offer larger displacement of cylinder volume
Deliver more power and torque
Reduce greenhouse emissions
No wonder they prefixed the "eco" name with this variation of turbocharged engines. Although carbon-based emission is still a critical concern, auto-mobile manufacturers should look into it.
The inclusion of a turbocharger in the engine is basically to allow both air and fuel to be directly forced into the internal combustion system, to produce more power and torque. This gives their vehicle more power, but will also consume greater amounts of fuel during the process. Hence, to overcome this, Ford has also come up with the solution of allowing better fuel efficiency and without compromising engine power. Their TDi line of engines is thus, a reference to the turbocharged direct-injection (or TDi) engine. The engine will run on petrol (gasoline or gas) fuel only and contains variants of cylindrical volume and capacity (in regards to engine oil).
It was reported that Ford's 1.0L EcoBoost with 3-cylinder turbocharged petrol direct-inject engine came to be an award-winning engine. It is also the smallest variant in the line of the EcoBoost engine. The 1.0-litre EcoBoost engine was first introduced on the Focus and C-Max car models, which was in the year 2012. It received a lot of praises for how the engine was able to outperform a standard 1.6-liter petrol engine in terms of power and output.
Thus, seeing the engine perform well, the company Ford then started downsizing with an engine that could easily boast ultra-low friction, high performance, and a long-lasting design. This further proved to become very popular, and which also led Ford to offer this engine variant as an option for a wider range of vehicles.
Are the Ford EcoBoost Engine Variants Reliable?
This question, however, needs to be asked to all those individuals that currently own Ford vehicles, and perhaps, even those that had once owned in the past and may have now switched to another 'car brand'.
Now, there is also no denying that problems can occur with motor engines and/or other components. Thus, no matter how trusted and reliable an auto-mobile manufacturing company may be, engine failures and/or under-performance of a vehicle's components are inevitable.
There is no doubt that Ford still holds an important place among the best-selling automobile brands in the market and on a global scale. For instance, a lot of truck drivers are seen driving Ford trucks, both heavy-duty and compact pick-ups. These trucks are built to be reliable on the roads and especially for transportation, whether it is short-distance or of longer distances.
A quite appealing fact about Ford's EcoBoost turbocharged direct-injection engine is that this engine technology is known for its low petrol (gasoline) consumption. This can be particularly crucial to truck drivers who want a tremendous truck, even though they do the majority of the heavy-loaded transportation on an intra- and inter-city level. Therefore, the EcoBoost engine developed by Ford, can not only make driving easier, but it will also allow better fuel management for truckers that cover longer distances for which more fuel is usually needed (and can mean more expenditure).
The Ford EcoBoost engine variants were developed to offer more power, which is also considered to be a key selling point for the company. The drivers, including farmers that needed to load and unload goods as one of their daily routines, will also feel the need of having more engine power and increase fuel efficiency. So, to some point, the EcoBoost engine may help in fulfilling these wishes of those tough drivers who spend most of their days on the roads and behind the steering.
What are the issues with Fords EcoBoost engine?
As already said earlier, one cannot be too sure of everything and problems might knock at your doorstep. The same can be said for Ford's EcoBoost engine.
Power loss and severe valve damage on higher mileage
Ford's EcoBoost engines are quite normal. It uses only a direct fuel injection system, which means there is no fuel to naturally clean the intake valve stems. However, this may cause the airflow to be limited thus, causing further damage on higher mileage.
Fuel pressure issues can also occur in high-mileage
The EcoBoost engine's output can easily be hampered by the low pressure which is provided by the fuel injector pump. Sometimes, simply replacing the fuel pump would solve the problem.
Overheating is the most serious and well-known problem with EcoBoost engines
The use of coolant pipes in the early Ford models with EcoBoost engines was made of nylon. These coolant pipes were known to be susceptible to failure, even at high temperatures. However, when Ford released their Field Service Action (FSA) in March 2015, it also required the replacement of the coolant pipes in about 96 percent of the 44,682 vehicles, and which had been affected resulting from overheating.
Cracked Exhaust Manifold
The 2.0-litre EcoBoost engine has an integrated exhaust manifold in both generation lines. The stainless steel manifold is directly inserted into the cylinder head. When towing or driving up hills, exhaust gas temperatures can reach higher levels, which can be very dangerous. The stainless steel exhaust manifold expands and contracts due to the continuous heat cycle that is produced by the engine and the fluctuations in temperature, respectively. Therefore, the exhaust manifold may cause to develop cracks when there is continuous expansion and contraction that are further combined with the engine that starts to produce vibrations.
These are just a few problems taken into account in Ford's EcoBoost engines.
Conclusion
Ford's EcoBoost engine which offers a turbocharger and direct fuel injection system may stick with its goals and provide power, fuel efficiency, and most importantly, minimize greenhouses emissions.