Looking for a used BMW N54 engine? Welcome, Autochunks! Here you will get the top quality used engines for sale that includes an unlimited miles warranty. We offer a stress-free & convenient experience. Here, we provide the access to our largest used engines inventory in the USA, i.e, you may get the right engine for the right place! We deliver every type of engine for different types of vehicles such as domestic cars, imported cars, SUVs, trucks or vans, etc. Contact today for getting more inquiries on the used motor prices & its specification.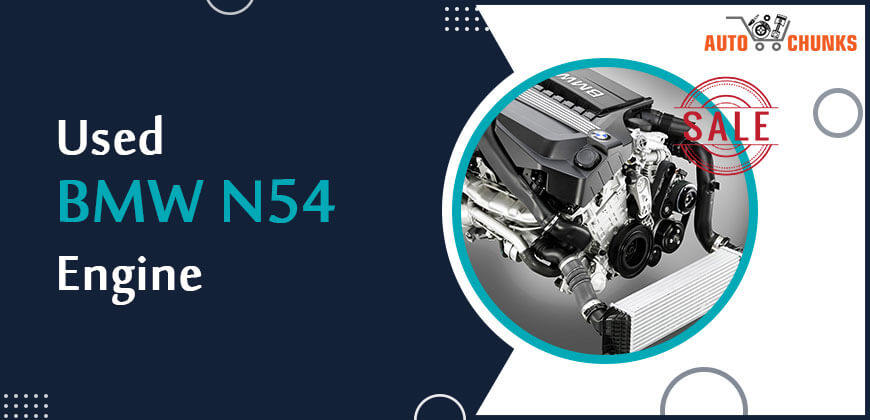 Used BMW N54 Engine For SALE!!!
When it comes to your luxurious BMW vehicle, you should know everything about the engine. BMW N54 engine launched in the 335i model of E90/E91/E92/E93 3 series range. It is a twin-turbocharged straight-six petrol engine that is manufactured alongside the naturally aspirated BMW N53 engine. BMW engine featured with double injection, double VANOS, an open deck engine block & the electric water pump. It also includes an aluminum engine block & a displacement of 2,979 cc. BMW engine doesn't include a Valvetronic i.e, variable valve lift.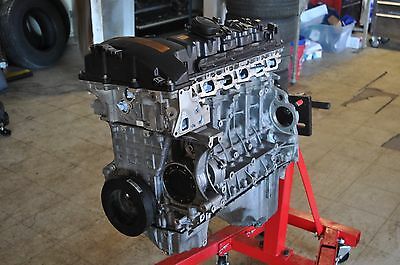 Autochunks provides different types of engines such as diesel & petrol engines with the best prices & low mileage for your BMW cars. Buy our naturally aspirated used engines at reasonable prices. We provide the standard engine power, maximum torque force & displacements for every engine. One of the most exciting parts of choosing us is that we deliver your order on time with the free worldwide delivery cost. Buy right now the best used BMW engine parts online at cheap rates.
What BMW cars have the N54 engine?
There is a large number of cars that use the N54 engines. Below we have listed some popular BMW cars that install the BMW N54 engines.
BMW E83 X3 2.5si (E83X 2.5i is mated to the N52)
BMW E60 525i (E61 wagon, E63 6-series convertible)
BMW Z4 sDrive35i (Z4 xdrive35i is mated to the N54)
BMW E64 6-series (convertible, coupe)
BMW E90 335i (E93 convertible, E92 coupe)
Used BMW N54 engines version- We Supply
Autochunks may help you on saving 40% – 70% vs OEM costs & deliver a top-quality, sturdy product with a fantastic guarantee. We have a huge inventory that comprises different BMW engines in all available models & years at a low cost. Below we have discussed some BMW n54 engines versions available for sale.
N54B30 Engine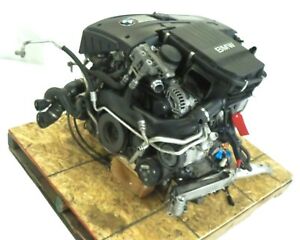 BMW N54 engine comes with turbocharging & direct injection. The fuel can be directly injected under high pressure. Thi engine was awarded as the engine of the year. Autochunks have a wide range of these N54B30 engines at cheap prices. Check our inventory for the used engines prices. Buy now the low-cost effective engines & get the best deals from us.
Specifications:
| | |
| --- | --- |
| Cylinder Arrangement | Inline 6 |
| Displacement | 2,979 Cc |
| Fuel Type | Gasoline (Petrol) |
| Cooling System | Water Cooled |
| Condition | Tested/Driven And Ready For A Second Use |
| Torque | 450 N.M @ 4,500 Rpm |
| Mileage | 61,043km |
| Max. Power | 340 Hp @ 5,900 Rpm |
N54B30 engine used in different versions with different power & torque. Let us discuss the N54B30 engine's available version.
N54B30 (225 kW version)
This engine uses in the 335i model from 2007 onwards. In this model, the 330i was replaced from naturally aspirated N52B30 (as performance below the M3). This version is rated as 225kW with 302 hp & 400Nm. Also by using independent testing, it generates 332 hp(248kW) & 311 lb-ft/422 Nm.
The engine is installed in
2007–2010 E60 535i
2007–2010 E90/E91/E92/E93 335i
2007–2010 E82/E88 135i
2008–2010 X6 xDrive35i
2009–2016 Z4 sDrive35i
2. N54B30 (240 kW version)
This version used in F01740i & E92 335is. It generates higher power & torque but there is a slight reduction in low rpm torque.
The engine is installed in
2008–2012 F01 740i
2010–2013 E92/E93 335is
3. N54B30TO (250 kW version)
This is one of the most powerful versions of the n54 engine. It uses in the E89 Z4 sDrive 35is & the 1 Series M Coupe.
The engine is installed in
2011–2012 E82 1-series M Coupe
2011–2016 E89 Z4 sDrive35is
Alpina Engine
The BMW N54 Alpina engine is based on the N54B30. It includes some upgrades such as an engine control unit, oil cooler & pistons. Buy these high-quality Alpina engines at pocket-friendly prices. Contact our mechanics or get more details about BMW N54 alpine engines.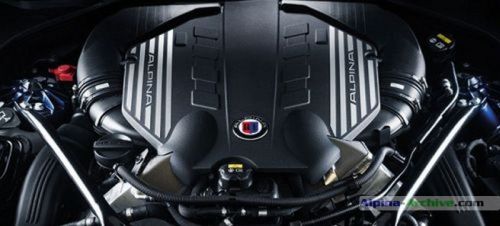 Specifications:
| | |
| --- | --- |
| Base Engine Size | 4.4 l |
| Base Engine Type | Gas |
| Cam Type | Double overhead cam (DOHC) |
| Cylinders | V8 |
| Horsepower | 600 hp @ 5,500 rpm |
| Torque | 590 lb-ft @ 2,000 rpm |
| Valve Timing | 32 |
| Valves | Variable |
Is the BMW N54 engine good?
Yes, the N54 engine really good engine. This engine has been won the international & straight wards engine awards. It offers high output & used n 1 Series M Coupe, 135iS, Z4 35iS & 335iS models. This N54 put over 700hp to the wheels by the up-gradation of twin-scroll turbocharger & a few bolt-on modifications. Below we have discussed the specs of the BMW N54 engine.
Specifications:
| | |
| --- | --- |
| Cylinder Head Material | Aluminum |
| Configuration | Inline-6 |
| Stroke | 89.6mm |
| Valvetrain | DOHC – 24 Valves – Dual VANOS |
| Compression Ratio | 10.2:1 |
| Weight | 430lbs |
| Displacement | 3.0L |
| Bore | 84mm |
| Cylinder Block Material | Aluminum |
| Production Run | 2006 to 2016 |
| Max LB-FT | 330 lb-ft |
| Max HP | 335hp |
Why do our clients choose us?
Autochunks is one of the leading & trustworthy autoparts dealers in the USA. We offer the best deals on the sales of used engines, used transmissions & other used autoparts. Here, our highly reliable customer team helps in finding the fast & cheaper BMW n54 engine. We have a huge network of auto recyclers, salvage yards, wrecking yards, junkyards in the USA. Hence you just need to fill in your contact information & engine request for getting price quotes directly from the sellers.
Also, we have the ASE Certified mechanics team for the testing of used components. After testing, we ship the engine part to your residence. Start small & grow your car into something special with performance engine upgrades from a company.
You can contact us through email, phone & online customer support. Make more inquiries on used BMW n54 engines prices & their models. Shop the low-cost effective engines & upgrade your BMW performance.