If you are searching for a used BMW b58 engine for sale, you have come to the right place! We carry a complete line of used BMW engines at cheap rates. Here you see the complete engine model list in our engine directory. All of our engines are warrantied! Hence take a look at our engine directory & fill the engine request. Contact us today for more information about the BMW b58 engine. Also, read the testimonials of previous customers for ensuring quality & trust.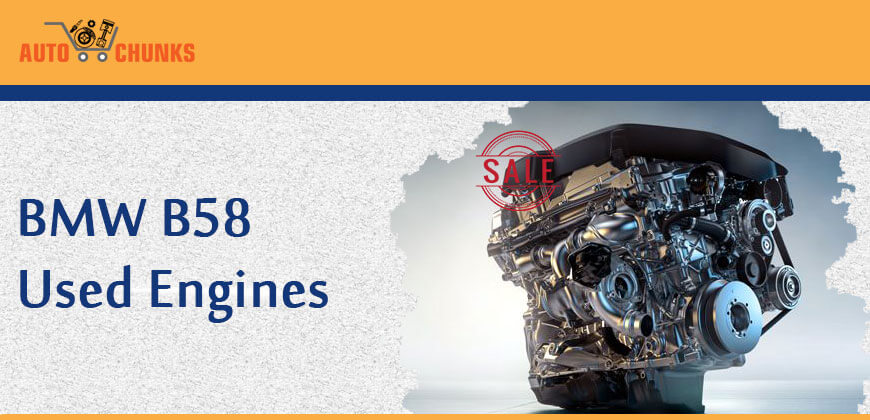 Used BMW B58 Engines For SALE!!- We Offer
BMW B58 is a turbocharged straight-six engine that replaces the N55 engine. Each engine has a displacement of 500cc(30.5 cu. in) per cylinder, following the B38 & B48 engine. B58 engine includes an engine-mounted heat encapsulation system, direct fuel injection & variable valve timing. It also features a closed deck engine design, variable valve lift, a single twin-scroll turbo & compression ratio of 11.0:1. The heat encapsulation system helps in reducing the engine's wear & emission during start-up.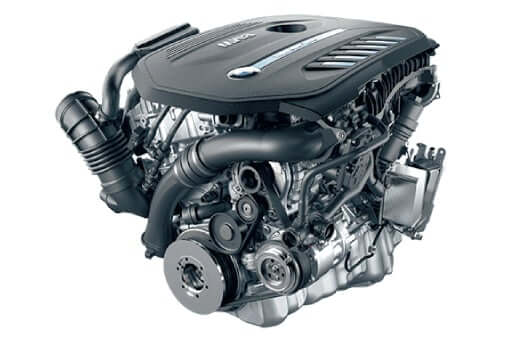 Auto Chunks is the best place to find the used engines online for your BMW. Our used BMW b58 engine assembly includes the oil pan, cylinder head, short block & valve covers. Our all used engines come with a standard & extended warranty. You just need to identify the right model of BMW engines & which mileage engine you are looking for. Book your order & get instant delivery to your residence. We deliver top-quality affordable used engines.
Why does my BMW i8 engine need to be replaced?
BMW b58 begins in 2015 & releases 40i models in 2016. Each model featured 322hp or 335hp, while the MPPK featured with 355hp version. However, it carries some notable changes that affect performance & reliability. B58 is more reliable than the N54 & N55, but some common problems fail it:
Coolant loss: Some people experienced miscellaneous leaks from gaskets, water pumps failures, turbo issues, etc. However, there are a lot of people that experience coolant loss without having leaks. Some symptoms like visible leaks, coolant tank cap, overheating, coolant mixed with oil & the pressure test systems are the symptoms that indicate the coolant loss.
Valve Cover Gasket: The valve cover gasket is made of rubber. It may lead to potential oil leaks. The plastic valve covers are prone to cracking & leaking over time, though less common than the gasket. Some symptoms are:
Burning oil smell
smoke from valve cover area
oil on spark plugs
Low engine oil light
Oil filter disintegrating: The oil filter is subjected to shear at the bottom. Due to this, some of the oil filters are stuck in the bottom of the oil filtering housing. You can use pliers to grab the portion & pull it out. Mostly this problem occurs in the oil filter housing (OFG) & gasket(OFHG). However, B58 has different OFH designs.
Which BMW Models Have the B58 Engine?
There are several models of the B58 engine developed that are widely used in the BMW lineup series. Below we have discussed some models of BMW that acquire different BMW b58 engines.
B58B30M0 (4 models from 2015-2017 to present) – Used in the 7 Series, 4 Series, 3 Series, 1 Series, 2 Series, 5 Series, 6 Series, X3, and X4.
B58B30O1 (2018 to present) – Used in the Z4, M3, M4, X3 (m40i), X4, and Toyota Supra
B58B39M1 (2018 to present) – Used in the X5, X6, X7, Z4, 5 Series, 6 Series, 7 Series, and 8 Series
B58B30C (2018 to present) – Used in the Toyota Supra
Availability of BMW B58 engines- We supply
Check the availability of BMW b58 engines at a low cost. Get the best deals on its all available models.
B58B30M0 engines
B58 engine launched in F30 340i that replaced the N55 engines. B58B30M0 engine is a model of the BMW B58 line-up engine. These engines are not easily available at a local shop. But here at Autochunks, you can find them easily. Check our inventory & choose the best engine for you. Buy them at affordable prices.
Specifications:
| | |
| --- | --- |
| Configuration | 6-Inline |
| Aspiration | Turbo |
| Fuel Type | Petrol |
| Torque | 450Nm |
| Displacement | 2998cc |
| Power | 340hp |
| Valves | 24, 4 P/ Cylinder |
Vehicle used:
BMW – 2 Series – F22 – M240i Coupé M
BMW – 2 Series – F23 – M240i Convertible M
B58B30M1 engines
We offer great deals on the used BMW engines at cheap rates. Here you can find every model of the BMW engine lineup series. These engines easily fit into your BMW & upgrade it. Check the prices & specs of the B58B30M1 used engines. Contact us today to buy them at cheap rates.
Specification:
| | |
| --- | --- |
| Engine | 2,998 cc (2.998 L; 182.9 cu in) |
| Fuel type | Petrol |
| Fuel System | Direct Injection |
| Engine Position | Front |
| Number of valves | 24 Valves |
| Aspiration | Turbo Intercooler |
| Power output | 250 kW (335 hp; 340 PS) |
| Engine Alignment | Longitudinal |
| Engine Position | Front |
| Maximum torque | 500 Nm or 368 lb.ft @ 1600 rpm |
Vehicle used:
2018-present G07 X7 xDrive40i
2018-present G29 Z4 M40i
2020 G30/G31 540i, G32 640i & G06 X6 xDrive40i
2020-present G11/G12 740i
2019-2020 G14/G15/G16 840i
2020 Morgan Plus Six
B58B30C engines
We deliver the checked & inspected engines. While testing, we replace all the worn & defective parts such as injectors, oil filters,s, etc. Here you get the top quality used engines at cheap rates. Please contact us for more information about the shipping costs to your country. We applied no core charge & offered a standard warranty on our low mileage used BMW engine.
Specifications:
| | |
| --- | --- |
| Engine Name | 4-Cyl Turbo 2.0 Liter |
| Top track speed | 155 mph |
| Power | 382 hp @ 6500 rpm |
| Torque | 368 lb-ft @ 1800 rpm |
| Horsepower | 255@5,000 |
| Max output (hp/rpm) | 255/5000-6500, 382/5800-6500 & 382/5800-6500 |
Vehicle used:
B58B30O1 engines
Buy the low mileage B58B30O1 used engine at a low price. These engines generate 285KW at 382 HP. Also, these engines easily run your BMW at higher speeds & keep it performing up. Contact us today for installing high-quality engines in your car at cheap rates.
Specifications:
| | |
| --- | --- |
| Engine Type | Intercooled Turbo Premium |
| Required Fuel | Unleaded I-4 |
| Displacement (liters/cubic inches) | 2.0 L/122 |
| Fuel System | Gasoline Direct Injection |
| Engine Petrol | 2.0 L turbocharged B48 I4 |
| Hybrid | 3.0 L turbocharged B58 I6 with a 48-volt electric motor |
| Maximum Torque @ RPM | 258 @ 1450 |
| Maximum Horsepower @ RPM | 248 @ 5200 |
Vehicle used:
2018-present G29 Z4 M40i
2019-present G20 M340i & G21 M340i
2020-present G01 X3 M40i
2019-present G02 X4 M40i
2020–present G22 M440i
2021 Toyota Supra
2021-present G42 M240i
Is the B58 engine good?
The BMW b58 engine replaces N54 & N55 engine. It also forces the S55 engine to be reckoned with in power, tuning & reliability. Toyota chooses this B58 engine to make an effective engine in 2jz. B58 engines rated as 330 horsepower from the factory with real-world tests.
BMW B58 Specifications:
| | |
| --- | --- |
| Stock Power | 330hp |
| World Record HP | 655WHP |
| Displacement | 2998cc (2.998L) |
| Turbocharger | Single "Twin Power" Turbo |
| Internals | Forged crank and rods. Cast pistons |
| Block Design | Closed Deck |
| Bore x Stroke | 82.0mm x 94.6mm (3.23in x 3.72in) |
| Internals | Forged crank and rods. Cast pistons |
| Redline | 7000 |
Why choose us- Contact Today For Best Deals
Autochunks is a one-stop engine repair & replacement service shop. We have covered everything about the engine for you!!. Our team of specialists is ready to help in choosing the right used engine for your BMW model. Here you will receive comprehensive service & maintenance for your BMW from professionals. When it comes to your BMW, you should choose the experts. Hence, here you will find the expert care & quality standards to keep your BMW performing up. Choose our highly reliable & quality-tested BMW used engines, that are offered at low cost. Call now for the used BMW b58 engine quote.
Our mechanics run the BMW engines for about 1/2 hour & also do compression & leak down testing. It is one of the good reasons why people choose us & come again & again. We assure you that you will get a satisfactory component for your BMW with our proven testing methods.
You can contact us through email, phone, or online customer support. Get more inquiries about the prices & specifications of the BMW B58 used engines.